There are dozens of different mattress sizes available, including standard sizes and custom sizes.
Not only that, but each country will also have different standard sizes.
In Ireland, for example, the standard sizes are different to those available in mainland Europe.
This means that the dimensions of a double bed, for example, will be different in Ireland than in Germany.
Some mattress brands available in Ireland may offer European mattress sizes, which is great if you're moving countries and happen to have a ton of bedding in those sizes, but this is the exception and not the norm.
Below, we'll take you through the most common Ireland mattress sizes and give some guidelines on who they're the most suitable for.
We've included the standard size terminology, metric dimensions in centimetres, and imperial dimensions in feet and inches to make the size guide easier to navigate.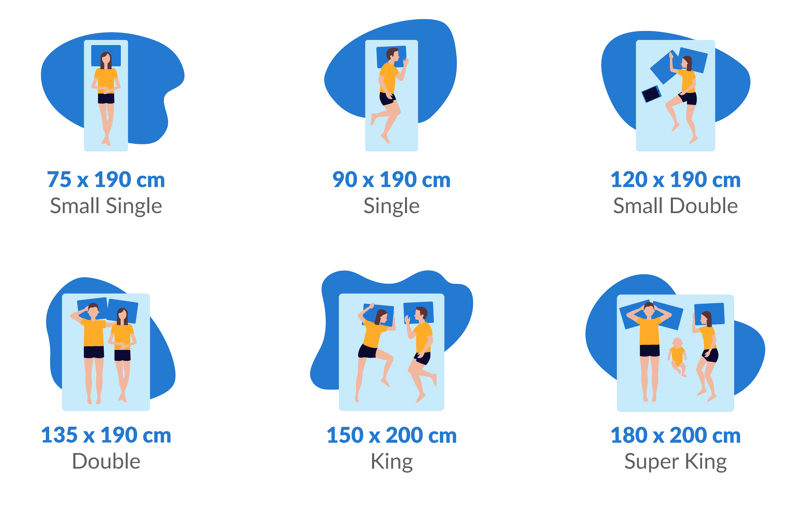 Mattresses for children (various sizes)
There are a variety of standard mattress sizes that will suit children.
For babies and small children under the age of 6, the most common sizes include:
Most cot or baby mattresses are available in both of these sizes 👶
There is no right or wrong choice here, but you can consider the size of your crib, how big your baby is, and the size of your child's bedroom when making a choice.
For children or young teenagers, the most common size includes:
Small single mattresses sized 75 x 190 cm (2'6" x 6'3")
While children can also easily sleep on standard single mattresses or even larger, the small single bed is perfect for smaller bedrooms and smaller budgets.
Single mattresses sized 90 x 190 cm (3' x 6'3")
The standard single mattress in Ireland has dimensions of 90 x 190 cm (3' x 6'3").
Some mattresses will also be available in the standard European single mattress dimensions of 90 x 200 cm (3' x 6'6").
Single beds are well-suited to singles, of course, and they can also be used by young children, teenagers, or university students 🎓
You can also easily combine two single mattresses to form one double bed, which is a great idea if you and your partner are of different body weights and have different mattress requirements.
The best thing about this mattress size is that you can store it easily and that it'll fit into any bedroom quite comfortably.
Small double mattresses sized 120 x 190 cm (4' x 6'3")
Small double mattresses fall between single mattresses and double mattresses.
These are a popular choice for teenagers, students, or young adults who want a little more luxury than a single mattress can offer but are not yet ready to invest in a double mattress.
Small double beds are often more convenient as you may not have enough room in your bedroom for a bigger-size mattress.
These are also convenient for spare rooms and make great guest beds.
Double mattresses sized 135 x 190 cm (4'6" x 6'3")
The standard double mattress in Ireland has dimensions of 135 x 190 cm (4'6" x 6'3").
Interestingly, the standard European double mattress is quite a bit larger and measures 140 x 200 cm.
We would recommend the standard double bed for singles wanting a bit more sleeping space and couples with limited space available in their bedroom.
Singles with pets (or single parents) will also find this mattress size quite comfortable.
King mattresses sized 150 x 200 cm (5' x 6'6")
A king-size mattress is our preferred choice for couples.
This mattress provides sufficient space for two people to sleep quite comfortably and not get in each other's way, especially if one partner is a restless sleeper.
Singles who like a lot of space will also really enjoy a king-size bed.
Interestingly, the closest European equivalent is either the European double mattress with dimensions of 140 x 200 cm or the European queen mattress with a size of 160 x 200 cm.
There is no standard queen size mattress in Ireland 👸
Super-king mattresses sized 180 x 200 cm (6' x 6'6")
A super-king-size mattress with dimensions of 180 x 200 cm is the premium choice for couples.
If you're sleeping on a super king-size bed, you'll have more than enough space to sleep comfortably without worrying that you'll disturb your partner's sleep.
Super-king mattresses are quite large, though, and often quite a bit more expensive, so these will not fit everyone's room or budget.
Emperor mattresses sized 200 x 200 cm (6'6" x 6'6")
The emperor size is the largest mattress size available in Ireland.
This is definitely a luxurious choice that offers a lot of space and can be used quite comfortably by three people or more (parents and children).
Emperor beds may be the largest standard size but they are not commonly available as bed-in-a-box mattresses.
You'll be more likely to find them at traditional retailers.
They are also very expensive and not suitable for all budgets - or even all bedrooms.
Custom sizes
In addition to all of these standard Ireland bed sizes and European bed sizes, you'll also find oversized or extra-length mattresses, generally with lengths of 210 cm or 220 cm.
Other brands may offer custom bed and mattress sizes.
Not every mattress manufacturer will be able to accommodate custom sizes or oversized mattresses.
Luckily, you won't need these often.
But if you or your partner are very tall (over 2 metres), an oversized or extra-length mattress is a good idea.
You wouldn't want your feet sticking out at the end of your bed 👣
As a rule of thumb, the mattress you choose should be at least 20 cm longer than you are.
For example, if you are 190 cm tall, then your mattress should be at least 210 cm long.