Pillows will always consist of an outer fabric envelope filled with materials of either natural or synthetic origin.
There are many materials a pillow could be made from. 🌎
There is no right or wrong choice, but you'll need to find the one that works best for you.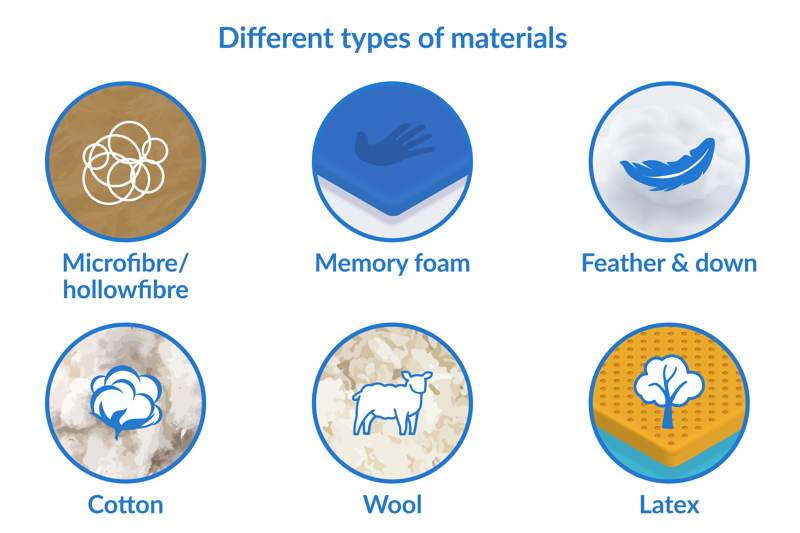 Below, we'll look at some of the most common pillow filling materials. 👇
Cotton pillows
Cotton pillows are very traditional.
They're cheap and readily available, but not always the best choice.
Cotton pillows tend to absorb heat and flatten out quite quickly. 😕

Microfibre / hollowfibre pillows
Microfibre and hollowfibre are both synthetic materials. 🧪
Both are made of polyester, though microfibre is more finely woven.
Polyester pillows are among the cheapest pillows on the market.
They're very lightweight and come in a range of heights and firmness levels. 🤩
This is very convenient, as you're likely to find a microfibre pillow that's perfect for you.
These synthetic pillows are usually also hypoallergenic, making them suitable for people prone to allergies. 🤧

On the downside, they tend to retain moisture and heat, and they aren't very breathable. ♨️
This can be uncomfortable for very hot sleepers.
They also tend to flatten out quickly and have the shortest life span of all.
Some cheap synthetic pillows may last less than a year!
If you're going for a polyester pillow, we'd suggest you stick to a very high-quality down-alternative microfibre pillow.
A good option is the very high-quality Eve Microfibre Shaper Pillow.
It even has a tapered shape for unique head and neck support!
Feather & down pillows
Down and feather pillows are naturally soft and very comfortable.
They're also mouldable, breathable, and long-lasting. 💨
Down pillows are the premium choice - they're much softer and more luxurious.
They are made from the feathers from the softer, fluffier layers underneath the bird's outer feathers.

Down pillows have to consist of at least 70% down feathers.
The rest can be made up of regular feathers.
Duck feathers and goose feathers are very popular choices.
Hungarian goose down, in particular, is a luxurious option.
Even though down & feather pillows are comfortable and long-lasting, they flatten out over time and need frequent refluffing. ☁️
This isn't the best choice for side sleepers, who require a slightly higher, firmer pillow.
Feather pillows may be made of natural materials, but they are not suitable for vegans or people prone to allergies. 🌱
You can occasionally find anti-allergy options where the pillow has been chemically treated to reduce the risk of allergies.
The Littens 100% Pure Hungarian Goose Down Pillow Set is an excellent anti-allergenic option that combines pure luxury with optimal comfort and support.
Memory foam pillows
Memory foam is a synthetic material that softens with temperature and moulds to the shape of the sleeper's body.
Memory foam pillows offer good pressure relief, making them a great choice for anyone struggling with neck pain.
They're also very durable and likely to last a long time. 🗓
Memory foam is also hypoallergenic, making memory foam pillows great for allergy sufferers.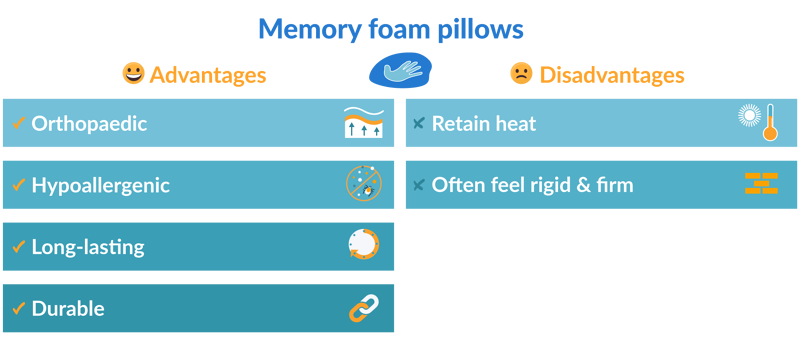 On the downside, memory foam pillows retain heat and limit airflow. 🥵
They can get very hot and uncomfortable, especially if you're sensitive to temperature.
They can also feel quite firm and rigid and often don't squash sufficiently to adjust height.
This makes them better suited for back and side sleepers.
Of course, there are a few customisable height-adjustable memory foam pillows and shredded memory foam pillows on the market.
The Nectar adjustable pillow is a great option!
Wool pillows
Wool pillows are an excellent choice for anyone looking for an eco-friendly and naturally hypoallergenic pillow. 🌎
They're also dust-mite-resistant.
Wool helps regulate temperature, keeping you cooler in summer and warmer in winter.
Wool pillows are usually firm, supportive, and have a lower loft, making them suitable for front sleepers.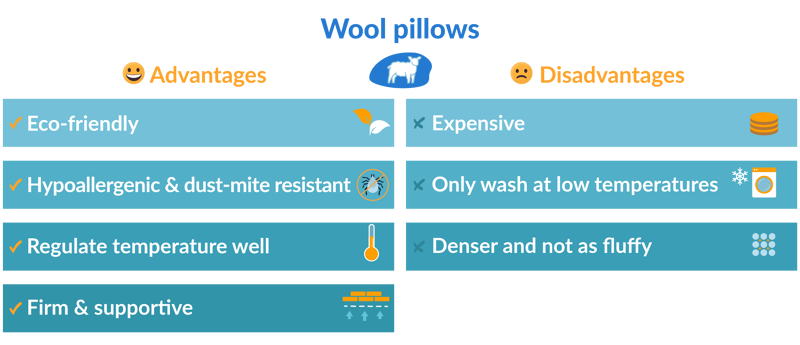 On the downside, they flatten out quickly and can be very heavy.
The Woolroom Deluxe Natural Wool Pillow is a great all-natural option that acts as a down and feather alternative. 🐑
You can even adjust the filling to suit your preferences!
Latex pillows
Latex is a costly natural material with properties similar to memory foam. 💰
Latex pillows are also firm, durable, supportive, and hypoallergenic, making them a great choice for people with neck pains or those prone to allergies.
They're also much more breathable than memory foam pillows.
On the downside, latex pillows are very expensive and exceedingly difficult to find.