There are dozens of different mattress firmness options.
Firmness is primarily a matter of personal preference, but your body weight and sleeping position play a role. 🤔
In general:
Lighter-weight people and side sleepers will sleep better on softer mattresses.
Heavier-weight people or back sleepers & stomach sleepers will do better on firmer mattresses.
When choosing the right degree of firmness for sleeping, you need to consider both comfort and optimal spinal alignment. 🦴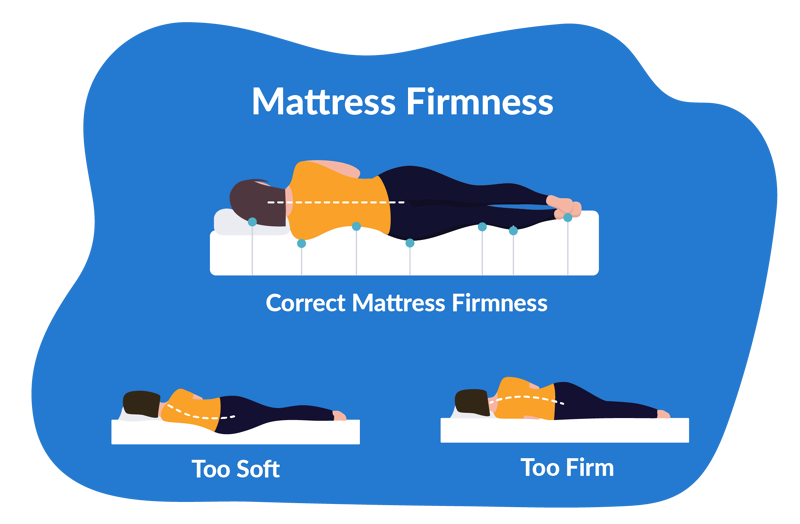 But how do you choose the right firmness level for sex?
Since sexual activity usually requires quite a bit of movement, you want a mattress that's firm and supportive enough but also soft and comfortable.
We'd recommend that you choose a medium-firm mattress.
In our mattress reviews, you can look at mattresses rated between 5 - 7.5 out of 10 on the Sleep Hero firmness scale, where 1 is the softest and 10 is the firmest. 🥳
The Simba Hybrid, for example, has a firmness rating of 6, making it the ideal firmness for sex.
You don't want a mattress that's too soft; otherwise, it'll feel like you're sinking into the material, and you won't have freedom of movement.
But if you have a mattress that's too firm, you'll lack responsiveness and comfort. 😔
Ultimately, the ideal mattress for sex will be both comfortable and incredibly supportive to carry you and your partner during sexual activity.
What about edge support?
Importantly, you need your ideal mattress for sex to offer edge-to-edge support.
Many of the modern-day bed-in-a-box mattresses - and especially foam mattresses - lack edge support.
This means that the mattress may feel firmer in the middle, but support will decrease as you go towards the edge of the bed. ⛰
A mattress with good edge support will support you no matter where you lie on the mattress - meaning you can enjoy the entire width of your bed! 👌
It also means that you and your partner won't ever feel like you'd be falling off the sides of the mattress.