Finding that perfect fit for your baby or young child shouldn't be too difficult, but there are a few criteria you need to consider.
These are important to ensure that the cot bed mattress you choose is the best to aid your little one's development. 👌
What mattress material should you choose?
Baby cot mattresses can be made from various materials, including pocket springs, coir, natural latex, or memory foam.
Important questions to ask yourself:
What is my budget?
How concerned am I about chemicals?
Do I want to go natural and organic?
There are cot bed mattresses to suit all of your requirements.
The most common cot bed mattress materials include: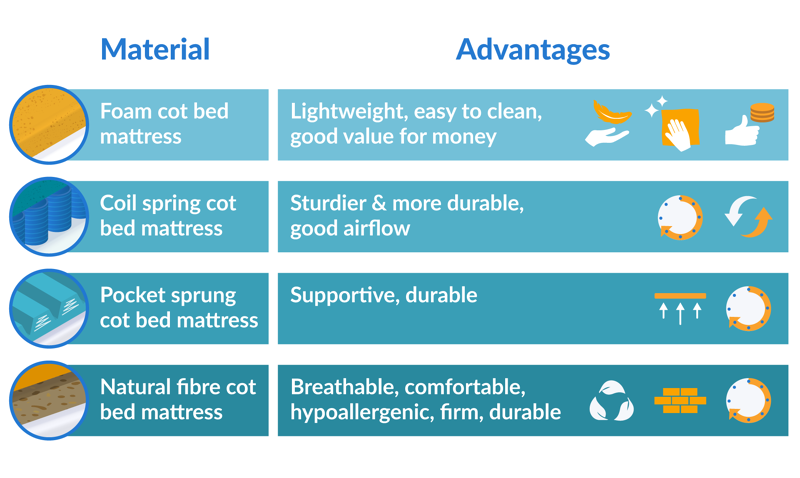 Many baby mattresses are made of certified foams, guaranteeing that they are free from harmful chemicals and toxins.
Cot mattresses made of natural and organic materials are also common. 🌱
These tend to be anti-allergy and free from harmful chemicals.
Natural and organic mattresses are often much more expensive, though, so you need to find the best cot mattress within your price range.

How firm should the cot bed mattress be?
Firmness is an essential aspect to consider when choosing a mattress for your baby or toddler.
You need a mattress that offers good support but is also very comfortable
As adults, we're used to choosing firmness according to our sleep position and our body weight/size. ⚖️
For young children, firmness is a lot simpler.
Newborns usually require firm mattresses.
Toddlers will usually be more comfortable on medium-firm mattresses.
Medium-firm to firm mattresses will adequately support spinal alignment and aid healthy bone development.
Firm mattresses are also recommended by the Lullaby Trust:
A firmer mattress is vital to meet safety standards.
If a cot mattress is too soft and your baby accidentally rolls onto the stomach, he or she could sink into the foams too much, which poses a suffocation risk.
Babies should always be placed on their backs to sleep, especially within the first six months.
Does breathability matter?
Yes, breathability is vital for a number of reasons:
It keeps your little one cool and comfortable for a better night's sleep.
It prevents the formation of mould and keeps the cot mattress more hygienic.
You should choose a cot mattress that allows for good airflow. 💨
But you also need to consider the mattress cover and your actual cot bed.
The mattress cover should be breathable and allow for good air circulation.
This will enhance the flow of air through the actual mattress.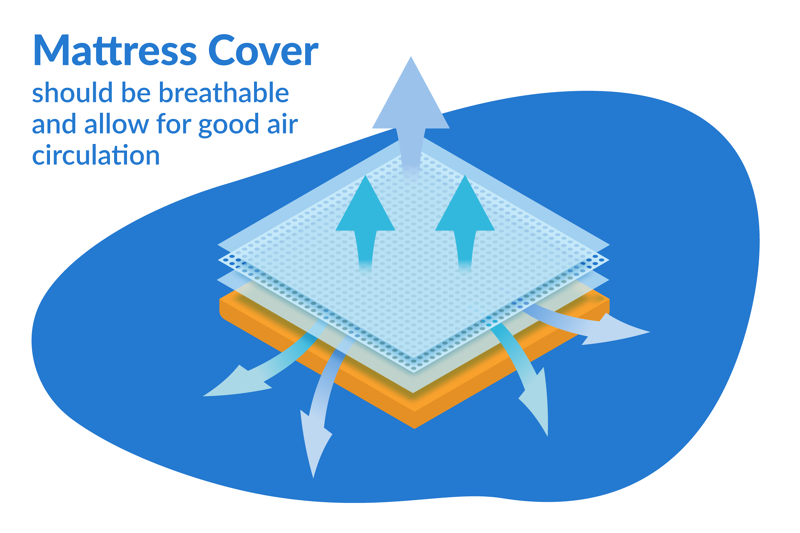 We would also recommend choosing slatted frames as these assist in keeping the cot bed mattress well-ventilated.
A note on cot bed deaths:
A cool mattress not only keeps your baby more comfortable - but it's also safer.
Babies who get too hot while sleeping have a higher chance of suffering from sudden infant death syndrome (SIDS).