You can trust that we've done our research and will only recommend best-buy choices. ⭐️
But how do you know if a mattress is a good buy or not?
You can use these simple criteria to good you. 👇
Focus on quality mattresses
The quality of your mattress matters.
After all, your mattress directly affects the quality of your sleep - and your sleep affects the quality of your life!
Regardless of what mattress you go for, you should always opt for the highest quality you can afford. 👍
And how exactly do you determine quality?
With mattresses, you can consider the materials used and their respective densities.
Different mattress materials
There is no right or wrong when it comes to mattress materials. 🙌
Mattresses can have any number of different fillings, ranging from synthetic foam to springs to natural coir and wool.
The material you choose depends on your personal preferences and sleeping requirements. 💤
Choosing the right material is quite important, so we look at this in much more detail further down.

Density in foam mattresses
If you're considering foam mattresses, you need to look at the density of the foams.
Density is measured in units showing how much foam was used for one cubic metre. 🧊
In general: The higher the density, the higher the quality of the mattress.
Higher density materials are also likely to last much longer.
This means that you can enjoy your mattress for a long time. 🗓
We'd recommend opting for a mattress of at least 40 kg/m³
Density in spring mattresses
For spring mattresses, you need to look at how many springs the mattress contains. 🌀
We would recommend choosing a mattress with at least 350 springs for the smallest size.
The higher the spring count, the higher the quality of the mattress and the more likely it is to last. 🥳
Find the right degree of firmness
Mattresses come in different degrees of firmness. ⛅️🧸🧱
As with mattress materials, there is no right or wrong choice here.
The right degree of firmness for you depends on your personal preferences and requirements. 🧐
But, your body type and preferred sleeping style also play a role:
Lighter-weight people & side sleepers often prefer softer mattresses.
Average-weight people & combination sleepers do well on medium-firm mattresses.
Heavier-weight people and pure back sleepers and stomach sleepers often prefer firmer mattresses.
But as long as you're well-supported, any degree of firmness could theoretically work. 👍
We consider the best mattresses according to sleeping position in more detail below.
Choose the right mattress size
Choosing a mattress that will fit your bed frame and bedroom is essential.
Most mattresses are available in the standard mattress sizes in Ireland.
These include:
Single mattresses: 90 x 190 cm (3' x 6'3")
Double mattresses: 135 x 190 cm (4'6" x 6'3")
King size mattresses: 150 x 200 cm (5' x 6'6")
Super-king-size mattresses: 180 x 200 cm (6' x 6'6")
Some mattress brands offer European sizes, custom sizes, and the luxurious emperor bed size, but these are rarer. 👑

Pay attention to the trial period
Most mattresses purchased online come with a risk-free trial period. 🤩
A 100-night trial period is standard, but some mattress brands offer even longer trials.
Trial periods give you the chance to try out the mattress in the comfort of your own home - and allow your body to get used to the new bed. 🏡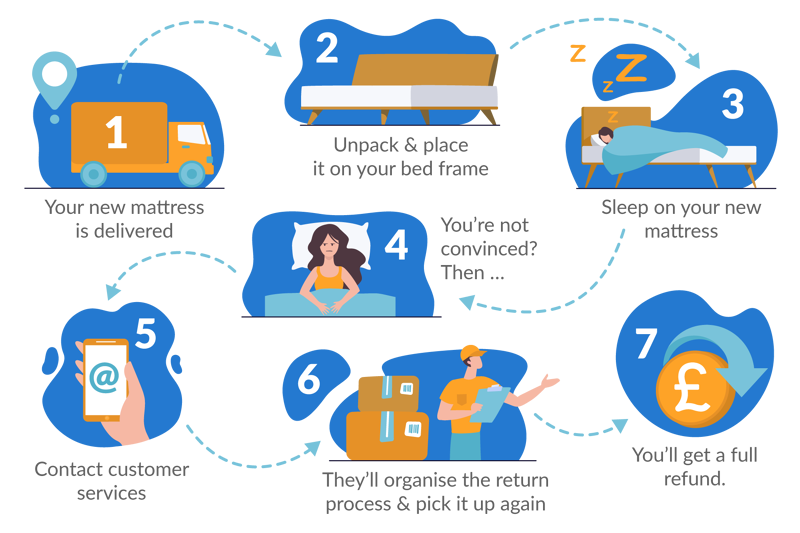 Sometimes, it can take up to 3 weeks to get used to a new mattress, especially if your new mattress is vastly different to your old mattress!
We love a good risk-free trial period. 🥳
If you're not completely satisfied with your purchase, you can simply return the mattress for a full refund!